David Stauffacher, business consultant at the Small Business Development Center (SBDC) at UW-Green Bay, was chosen by his peers as the Wisconsin network's 2023 State Star.
Stauffacher was recognized for his contributions to the Capital Access Clinic, which helps business owners seeking loans. His leadership role on this team includes working with student interns and mentoring other SBDC consultants.
David said, "Client engagement is my favorite part of the job. I simply love to guide clients to success, showing them a step-by-step process including financial modeling, strategic planning, marketing strategy and leadership development. Success is really all about one's journey, defined within and explored throughout our lives; that's the joy. I see a parallelism with Entrepreneurship and Theatre. The journey often begins with a dream, a vision that becomes a reality through creative play-write (strategic planning), directed through tireless rehearsals (training and implementation) with hopes of delivering an engaging performance as the curtains rise (opening for business). I have been fortunate as an SBDC advisor to interact and support many client performances on life's stage from the best seat in the house."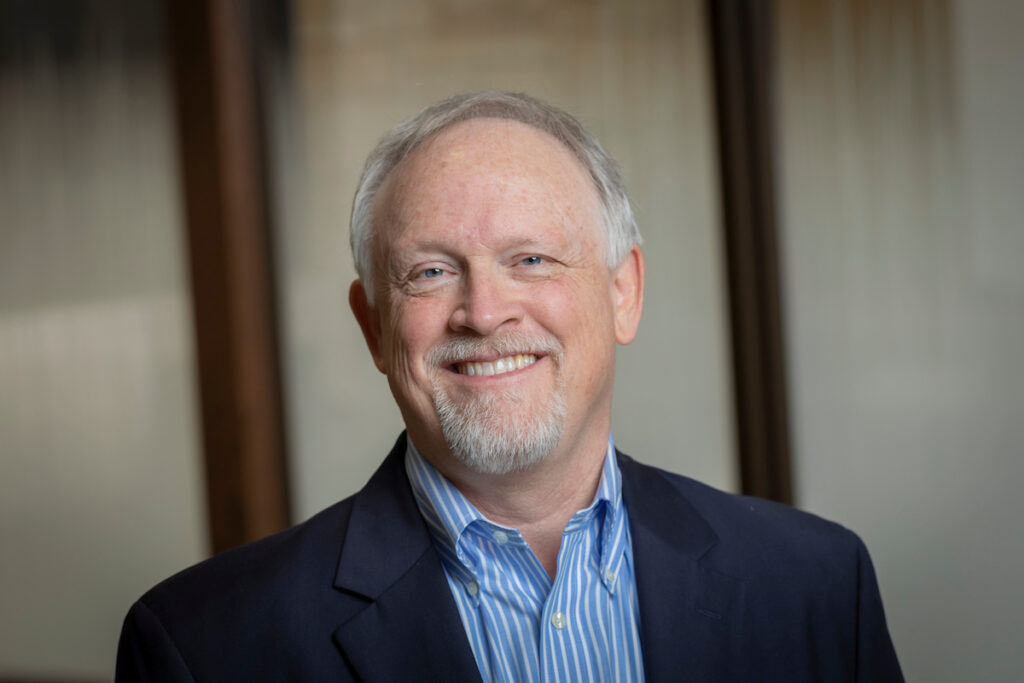 In his award nomination, Stauffacher was described as eager to assist others with a willingness to go the extra mile. David participates in many community stakeholder activities, such as Business Lending Partners Loan Committee, Door County Economic Development Loan Committee, the Green Bay Packer Mentor Protégé program and the local Green Bay SCORE Chapter.
"Dave leads by example and continues to be a top performer in the state," said Tara Carr, center director at SBDC at UW-Green Bay. "He recently implemented a Green Bay center newsletter and has served on SBDC network hiring committees for both Oshkosh and La Crosse. Dave offers continual consulting efforts at the SBDC at UW-River Falls center as well."
Colleen Merrill, interim SBDC state director said, "Dave is a wonderful part of this team. He brings a positive attitude and a sense of fun to all his work. He volunteers to help where he is needed and has guided many student interns and other consultants using his entrepreneurship knowledge and expertise."
The Wisconsin Small Business Development (SBDC) Network offers no-cost, confidential consulting and business education to new and existing businesses through 14 centers across the state. In 2022, the SBDC served 6,385 clients, resulting in $132.4 million in capital investment, 310 new businesses and 21,424 jobs supported.
The State Star award recognizes:
Impact on clients
Innovative approaches
Team spirit
And willingness to go the extra mile.
The Wisconsin SBDC is a nationally accredited member of America's SBDC, which traditionally honors State Stars each fall during its national conference. Past Wisconsin State Stars include Harlie Juedes (2022, interim center director, SBDC at UW-Eau Claire; Cheryl V. Mitchell (2021, center director, SBDC at UW-Milwaukee, posthumous honor); and Michelle Somes-Booher (2020, center director, SBDC at UW-Madison).
Stauffacher is a Wisconsin native with a supportive connection to our state's education system. He earned a bachelor's degree in business administration from UW-Whitewater and an MBA from UW-Oshkosh. Outside of his professional life, he enjoys the Wisconsin outdoors with his love of fishing the finest waterways of our state.
About the Wisconsin SBDC
The Wisconsin Small Business Development Center (SBDC) is a nationally accredited statewide network supporting entrepreneurs and business owners through no-cost, confidential consulting and business education. Regional SBDC experts facilitate improvement and growth for small and emerging mid-size companies and help launch successful new enterprises. The Wisconsin SBDC is hosted by the University of Wisconsin System under the Institute for Business & Entrepreneurship. It is funded in part through a cooperative agreement with the U.S. Small Business Administration. www.wisconsinSBDC.org
About America's SBDC
America's Small Business Development Center (SBDC) network is a partnership uniting private enterprise, government, higher education and local nonprofit economic development organizations. It is the Small Business Administration's largest partnership program, providing management and technical assistance to help Americans start, run and grow their own businesses. www.americassbdc.org