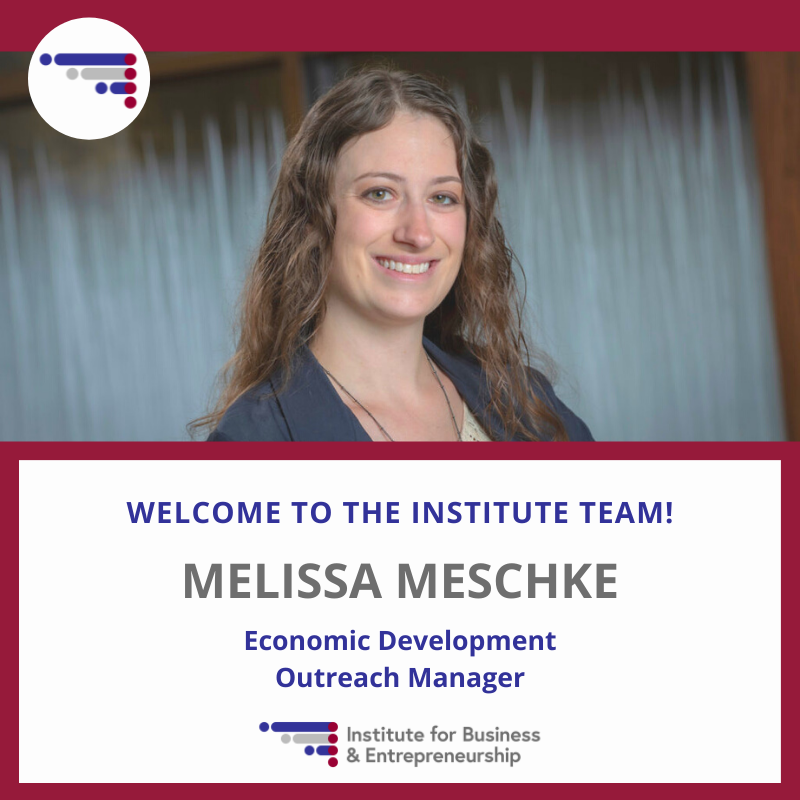 Melissa Meschke, center director at the Small Business Development Center (SBDC) at UW-Stevens Point, has been named the Institute for Business & Entrepreneurship's economic development outreach manager.
In this new role, Meschke serves at the important intersection between local and regional economic development organizations (EDOs) and the Institute's program units — Small Business Development Center, Center for Technology Commercialization, Food Finance Institute, Center for Business Intelligence and Business Dynamics Research Consortium.
"Long-lasting collaborative relationships across the state are fundamental to our work in growing strong businesses and moving local economies forward," said Mark Lange, executive director of the Institute. "We are committed to deepening partnerships and exploring new initiatives not just with EDOs but also lenders, chambers of commerce, educational institutions, trade groups and other organizations."
Meschke is eager to pursue opportunities that will help deliver new entrepreneurial support services critical to the 21st century economy.
"In the past four years, I have assisted hundreds of small business clients and learned so much about their needs," she said. "I'm excited to build public and private partnerships to widen the Institute's impact."
Angela Close, executive director of Langlade County Economic Development Corporation, pointed to a relevant example of Meschke's work at UW-Stevens Point.
"Entrepreneurship is the backbone of our economy. Having SBDC resources for our clients has proven to be a success," Close said. "With the Entrepreneurial Training Program dating back to 2015 and the partnership we formed with Melissa and the team, 26 new businesses have started here."
Meschke, who has a bachelor's degree in marketing from UW-Eau Claire, is pursuing her Certified Economic Developer (CEcD) certification from the International Economic Development Council.
"Businesses and taxpayers alike are better served when we all work together," said Bon Wikenheiser, associate director for the Institute. "The pandemic reinforced that relationships across the U.S. Small Business Administration, Wisconsin Economic Development Corporation and local business organizations matter. Entrepreneurs benefit most when they have access to experts who help them navigate through the challenges and opportunities."
Meschke, who started in this role Aug. 2, can be reached at .
About UW System Institute for Business & Entrepreneurship
The Institute for Business & Entrepreneurship helps entrepreneurs, businesses and economic development professionals across the state to achieve their goals. The Institute, part of the University of Wisconsin System, offers business consulting, education and data services through five distinct program units: Small Business Development Center Network, Center for Technology Commercialization, Food Finance Institute, Center for Business Intelligence and Business Dynamics Research Consortium. This critical business outreach enhances the value of Wisconsin one business at a time. www.business.wisconsin.edu