Jesus Nañez and his wife Thaime Nañez, owners of Chucho's Red Tacos and the Farmhouse Paint and Sip Studio in Milwaukee recently received a call that he never expected: an invitation to attend a small roundtable event and a reception with Vice President Kamala Harris in honor of Hispanic Heritage Month.
Jesus and Thaime were honored by the invite and even took it one step further to truly make an impact and come with tangible items to discuss that were relevant to the broader Hispanic business owner community. Even though it was short notice, Jesus took it upon himself to talk with ten other Hispanic small business owners and local politicians to learn what he should be presenting and bringing to the discussion so he wasn't just sharing his opinion. He booked the trip for him and his family and they were off!
The first part of the day was spent in a six-person, intimate roundtable event with the Vice President at the White House. Jesus was able to present the concerns he gathered from the Hispanic leaders he met with before the event, including ideas for EIDL reform and access to capital for new and expanding Hispanic businesses. Jesus said "In the state of Wisconsin about 18% of the businesses are owned by Hispanic business owners, yet less than 8% of the SBA Loans in the state are awarded to Hispanic businesses." He was honored to be able to bring the disparity to light at a national level. That event was concluded with a private tour of the White House. "I was able to capture a photo of my son running through the White House halls, what a special opportunity!" said Jesus.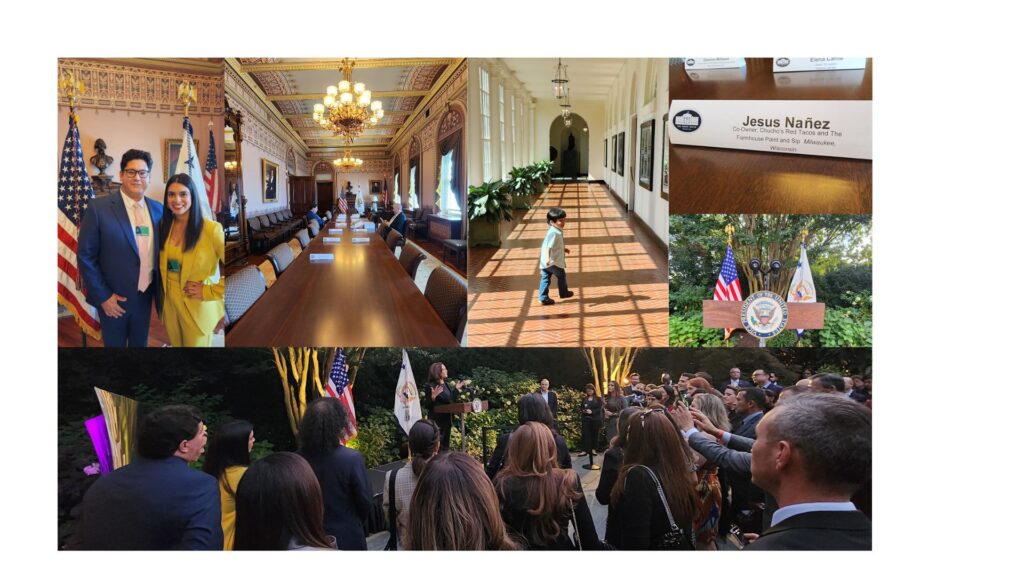 The evening was spent with 70 other business owners and community leaders from across the nation at Vice President Kamala Harris's home. It was a great opportunity for networking and a learning opportunity for all.
This is Jesus's second encounter with the White House during Hispanic Heritage Month, having the opportunity to participate in a White House Roundtable event in the fall of 2021. You can watch the event here and see a TMJ Milwaukee article about it here.
In addition to running his businesses, Jesus is also the Bilingual Consultant and Outreach Manager for the Wisconsin Small Business Development Center Network. Learn more about Jesus by viewing his bio and request consulting here.