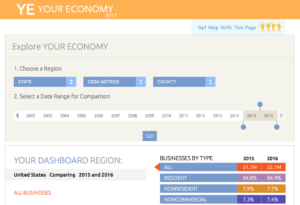 MADISON — YourEconomy provides a useful, up-to-date snapshot of the composition of your local business community.
Dig in to see insightful data that can help with client or project work:
Go to YourEconomy.org
Click "Go" in the lower left section
Select Wisconsin in the State dropdown menu
Select your CBSA or County
Slide the bar to the years you wish to compare
Click "Go!"
Data will load and show high-level numbers on the right side under "Business By Type." You can click on any of those bars and then click "Indicator Details" on the lower left to see an even more in-depth look.
Play around with different years and areas to explore more about your local business community. If you have any questions, email Jessica Nelson.