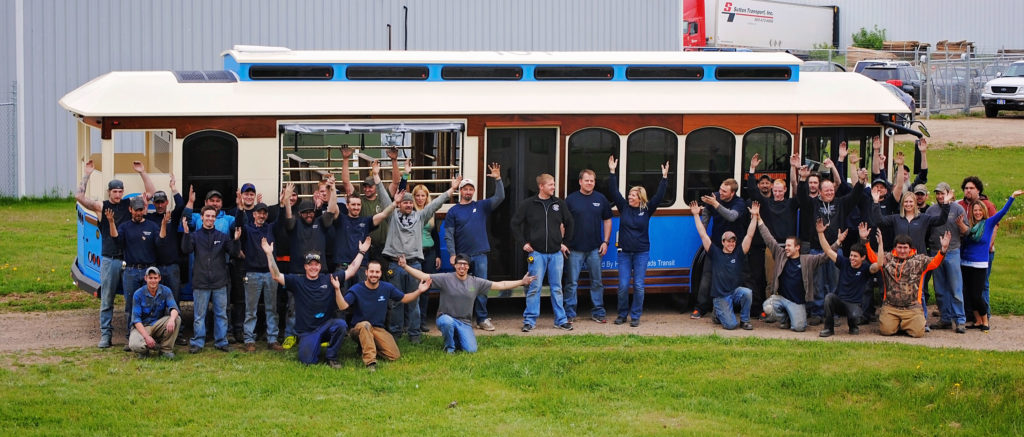 WASHINGTON, D.C. – Hometown Trolley, a third-generation family business from Crandon, Wis., has received an exclusive invitation to share its success story on the national stage Feb. 6 at the 2017 America's Small Business Development Centers Client Showcase & Reception.
The Capitol Hill event celebrates small business and the success of SBDC clients around the nation.
Hometown Trolley, one of 14 companies in the showcase, is the leading North American manufacturer of trackless trolleys. Combining 19th-century charm with 21st-century technology, Hometown Trolley has more than 2,300 cars in public and private transportation use, mostly in the United States, Canada and the Caribbean.
Kristina Pence-Dunow, president and CEO, has led the company through a complete turnaround and modernization since 2010. Hometown Trolley has acquired its major competitor, built a new 18,000-square-foot production facility and grown from 12 employees to 47. Sales have quadrupled since 2013 and are projected to increase through next year.
The company's growth can be attributed in large part to a commitment to innovations that include such "green" options as propane and natural gas as well as the first all-electric, zero-emission model. Hometown Trolley also improved its appeal and accessibility with a "low boy" floor design that offers street-level boarding.
"It truly is a team effort from local suppliers, dedicated employees and the new energy from my children taking leadership roles in the business as adults," Pence-Dunow said. "With each leap of faith, we are reaching our goals, and it is amazing to see how far we have come over the years."
Pence-Dunow worked extensively with UW-Green Bay's Small Business Development Center for expansion and capital needs.
"When I first visited Hometown Trolley, it was evident that this was a business where ownership had a compelling vision," said Chuck Brys, SBDC consultant. "Our role was to help crystallize that vision and assist in converting that vision into a tangible concept. It has been most gratifying to watch Kristina and her team convert what had been a small but quality company into the clear market leader in North America and evolve Hometown into a major manufacturing employer in the region."
America's SBDC is the country's most comprehensive small business assistance network, with nearly 1,000 service centers helping businesses start, manage and grow through no-cost consulting and low-cost training.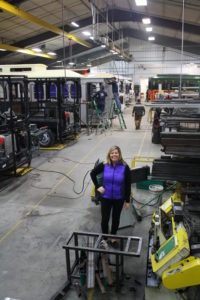 In 2016, 240 businesses were started and 2,393 clients received consulting through the Wisconsin SBDC Network. Companies working with SBDC specialists obtained almost $76 million in loans and investments and created/retained 892 jobs.
Nationally, more than 17,000 businesses were started last year with SBDC as
sistance, leading to 98,660 new jobs.
Hometown Trolley intends to continue down a road of growth and innovation, aiming to double production again by 2018.
One opportunity area is exports; the company recently provided quotes to possible customers in Ireland, South Korea and Mexico.
Further development of environmentally friendly options remains a priority. Hometown Trolley believes electric is the future of transportation. Also, a new modern bus that operates on liquid propane gas is in Federal Transit Administration testing, with a target market of tour companies and the National Park Service.
About America's SBDC Network
America's SBDC represents the nation's 63 Small Business Development Centers, a national network of partnerships uniting higher education, state and local nonprofit economic development organizations, private enterprise and government. It is the U.S. Small Business Administration's largest partnership program, providing management and technical assistance to help Americans start, run and grow their own businesses. SBDC clients start a new business every 31 minutes, create a new job every 5 minutes, generate $100,000 in new sales every 7 minutes, and raise $100,000 in capital every 11 minutes. www.americasSBDC.org
See all of the companies in the showcase profiled on ASBDC's blog, http://americassbdc.org/blog/.
About Wisconsin SBDC Network
The Wisconsin Small Business Development Center is a statewide network supporting entrepreneurs and business owners through no-cost, confidential consulting and targeted educational programs. Regional SBDC experts facilitate improvement and growth for small and emerging mid-size companies and help launch successful new enterprises. The Wisconsin SBDC is hosted by the University of Wisconsin-Extension. http://www.wisconsinSBDC.org
About Hometown Trolley
Hometown Trolley is a third-generation family business and woman-owned manufacturer of trackless trolleys, founded in 1976. The Crandon, Wis., company's 100 percent American-made trolleys are designed in replica of the nostalgic streetcars of the 1800s, combining high-quality craftsmanship with the latest innovative technology. Hometown Trolley is a 2016 nominee for Wisconsin Manufacturer of the Year and was recently honored with a 2016 Manufacturer of Distinction Award – Northeast Wisconsin by Advance, the economic development department of the Greater Green Bay Chamber of Commerce. http://hometowntrolley.com