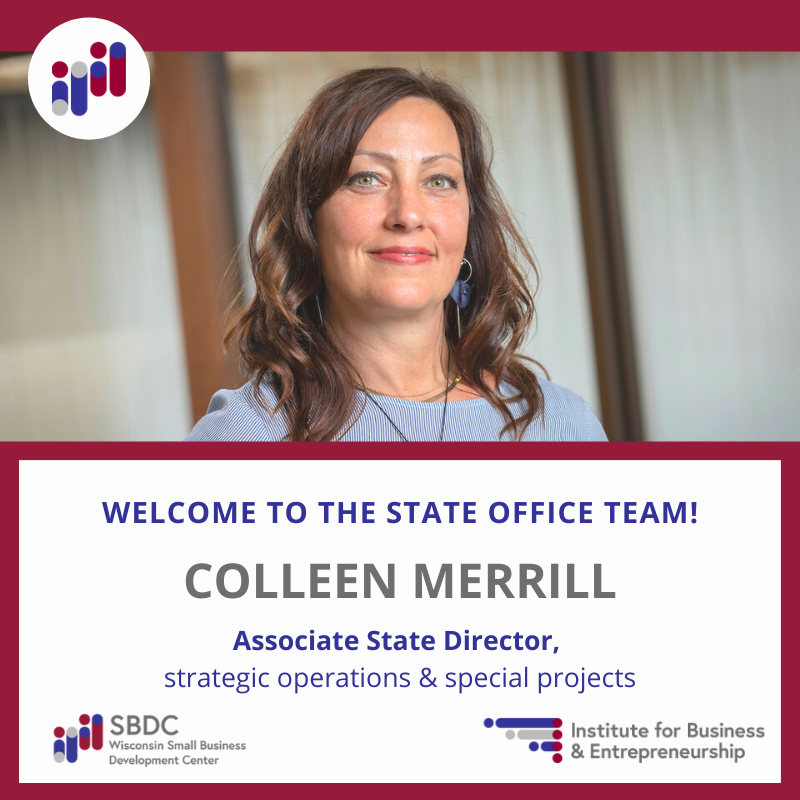 MADISON – Colleen Merrill, director of the Small Business Development Center (SBDC) at UW-Oshkosh since 2013, has been named associate state director for strategic operations and special projects for the Wisconsin SBDC Network.
In this role, Merrill will be responsible for:
SBDC leadership, administration, planning, strategy and statewide implementation
Compliance, policy and procedures
Management of key relationships
"Colleen has a proven track record of delivering high-quality services that help budding entrepreneurs get started and established business owners grow," said Bon Wikenheiser, state SBDC director. "Her enthusiasm, results-driven mindset and collaborative spirit will benefit our staff, clients and stakeholders."
"I'm looking forward to helping businesses across the state rebound and reimagine the way they operate in order to thrive — during the pandemic and beyond," Merrill said.
The Wisconsin Small Business Development (SBDC) Network offers no-cost, confidential consulting and business education to new and existing businesses through 13 centers across the state. In 2019, the SBDC served 4,658 clients, resulting in $91.3 million in capital investment, 300 new businesses and 19,717 jobs supported.
Merrill earned a bachelor's degree in finance and MBA from UW-Oshkosh. Before working for the SBDC, she held other consulting roles and owned multiple business; she also has taught entrepreneurship classes for a number of years.
At UW-Oshkosh, Tom McDermott will serve as SBDC director and Dan Brosman will step up as executive director for the Alta Resource Center for Entrepreneurship & Innovation, which Merrill also led since 2013.
About the Wisconsin SBDC
The Wisconsin Small Business Development Center (SBDC) is a nationally accredited statewide network supporting entrepreneurs and business owners through no-cost, confidential consulting and business education. Regional SBDC experts facilitate improvement and growth for small and emerging mid-size companies and help launch successful new enterprises. The Wisconsin SBDC is hosted by the University of Wisconsin System under the Institute for Business & Entrepreneurship. It is funded in part through a cooperative agreement with the U.S. Small Business Administration. www.wisconsinSBDC.org