MADISON: Governor Tony Evers is recognizing the Wisconsin SBDC network with an official proclamation celebrating SBDC Day and acknowledging their support of the state's small businesses.
In 2022, the Wisconsin Small Business Development Center (SBDC) network helped over 4,900 small business clients start, grow and adapt their businesses to prosper in this changing economy.
The seventh annual celebration of the collective impact and success of Small Business Development Centers across the nation is March 15, 2023.
"Small businesses are navigating uncertainties such as raising interest rates, supply chain issues, inflation and more," said Bon Wikenheiser, Wisconsin SBDC State Director. "We are honored to be there to help entrepreneurs find their way to success."
At the state level, the Wisconsin Economic Development Corp. (WEDC) continued to be a strong partner in promoting various small business assistance programs as well. "The SBDC Network's services are absolutely invaluable to our state's business success, and we are excited to celebrate their 2022 accomplishments," said Missy Hughes, secretary and CEO of the Wisconsin Economic Development Corporation (WEDC).
Last year, the Wisconsin SBDC served over 4,900 clients, resulting in over $119 million in capital investment, at least 285 new businesses and 19,000 jobs supported.
"SBA's Wisconsin team celebrates its vital partnership with the Wisconsin SBDC network and applauds the strength and resilience the network builds for Badger State small businesses", said Eric Ness, Wisconsin District Director for the U.S. Small Business Administration. "The knowledge, one-on-one consulting, and training SBDC's provide greatly increases business' ability to access capital and plan for both successes and challenges."
Clients across the state expressed their gratitude for the work of the interconnected SBDC network. "Without my SBDC Consultant and his commitment to seeing entrepreneurs get started on the right path to success, it would've been a lot harder for me to get my business up and running," said Nate Krohn, owner of Teriyaki Madness.
Small businesses, partners and advocates are invited to use the hashtag #SBDCDay in social media posts leading up to and especially on March 15.
Additionally, many of our SBDC Centers across the state are holding events on and around SBDC Day:
With nearly 1,000 locations across the country, SBDCs provide entrepreneurs with the resources to succeed and measurable economic results. In 2022, SBDCs across the nation helped generate 14,487 businesses starts, 85,094 new jobs, $10.1 billion in sales and $7.7 billion in capital investment. For every federal dollar spent on SBDCs nationwide, clients were able to access $57.51 in new capital to help their business grow.
To learn more about #SBDCDay, visit www.AmericasSBDC.org/SBDCDay.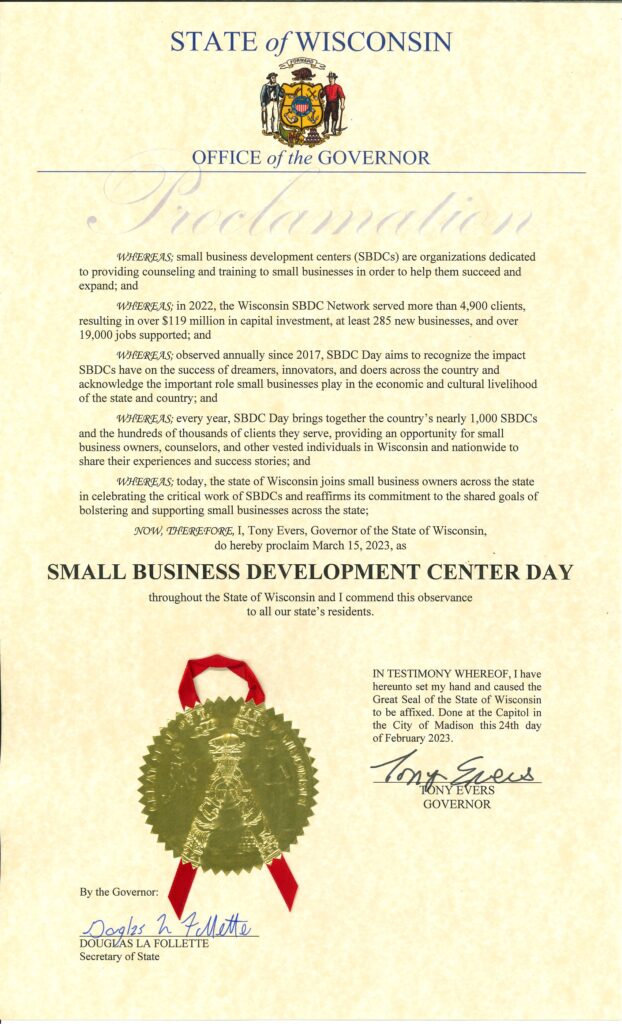 About the Wisconsin SBDC
The Wisconsin Small Business Development Center (SBDC) is a nationally accredited statewide network supporting entrepreneurs and business owners through no-cost, confidential consulting and business education. Regional SBDC experts facilitate improvement and growth for small and emerging mid-size companies and help launch successful new enterprises. The Wisconsin SBDC Network is hosted by the University of Wisconsin System within the Institute for Business & Entrepreneurship. www.wisconsinSBDC.org
About America's SBDC
America's SBDC represents the Nation's 63 Small Business Development Centers, a national network of partnerships uniting higher education, state and local nonprofit economic development organizations, private enterprise and government. It is the Small Business Administration's largest partnership program, providing management and technical assistance to help Americans start, run and grow their own businesses. www.americassbdc.org