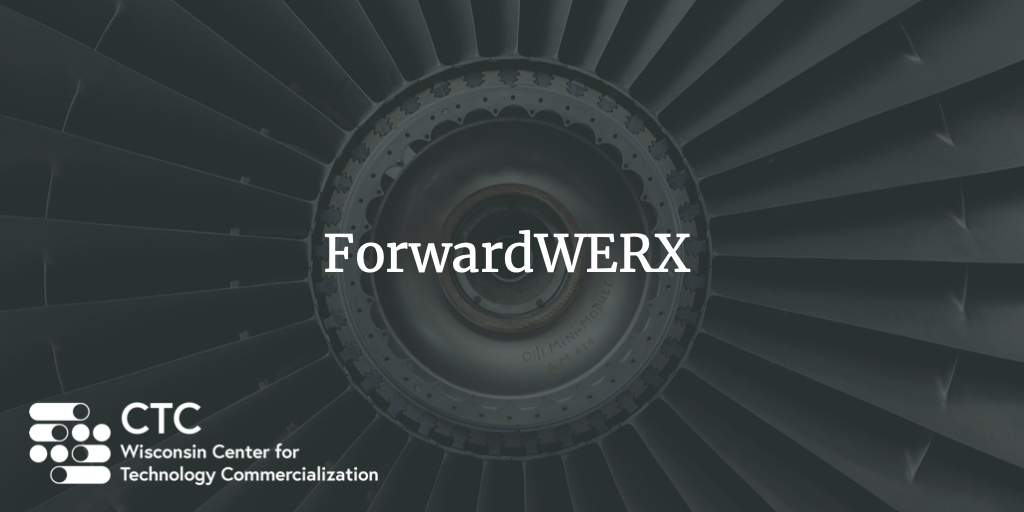 A unique new military-civilian collaboration to promote aerospace innovation in Wisconsin has received a competitive federal grant.
The Center for Technology Commercialization (CTC) is one of 33 organizations around the country to be awarded $125,000 by the U.S. Small Business Administration for specialized training, mentoring and technical assistance under the Federal and State Technology (FAST) Partnership Program.
FAST seeks to improve outcomes in the Small Business Innovation Research (SBIR) and Small Business Technology Transfer (STTR) Programs for underserved communities by increasing participation from women-owned, rural-based and socially or economically disadvantaged small businesses.
CTC, which has worked since 2005 to help clients secure SBIR grants from such agencies as National Institutes for Health and the National Science Foundation, is expanding its work to connect small manufacturing and engineering firms to the growing funding opportunities at the U.S. Department of Defense.
"We're creating a communications conduit across small businesses, the UW System and the Wisconsin Air National Guard, with potential to expand even further," said Idella Yamben, CTC director. "We also want to engage Guard members around the state in professional development to solve real-world problems to make the military more resilient."
"These sorts of public-private partnerships and investments are instrumental to continued innovation in aerospace and military technology," said Brig. Gen. David May, Wisconsin's deputy adjutant general for Air. "A culture of innovation is instrumental as the military faces complex problems on a daily basis that require us to employ advanced technology to maintain advantages over our adversaries."
Outreach will include training from the AeroX aerospace and defense accelerator, the Wisconsin Small Business Development Center (SBDC) Network, UW-Milwaukee and UW-Madison, as well as a dedicated cohort in 2022 for CTC's SBIR Ready program.
The Wisconsin Economic Development Corporation (WEDC), a committed financial partner for other CTC programming, is also providing matching funds for this opportunity.
"Building a strong entrepreneurial ecosystem is a key initiative for WEDC, and we are fortunate to have our military as a valuable partner in achieving that goal with this program," said Ed Javier, entrepreneurship program director for WEDC.
CTC's previous FAST efforts resulted in a 2020 Tibbetts Award from the SBA.
"The Center for Technology Commercialization has helped so many Wisconsin businesses transform their technology into viable businesses," said Eric Ness, district director for the SBA in Wisconsin. "These funds will boost their reach and help more businesses achieve this goal."
Sign up to learn more at www.wisconsinctc.org/ForwardWERX. And follow ForwardWERX on Facebook, Twitter and Instagram.
About the Center for Technology Commercialization
The Center for Technology Commercialization is a program unit at the University of Wisconsin System's Institute for Business & Entrepreneurship. CTC provides one-on-one expert consulting to early-stage emerging and innovative, established technology businesses throughout Wisconsin. CTC has collaborated in acquiring more than $300 million in federal and other funding for clients. www.wisconsinctc.org
About the UW System Institute for Business & Entrepreneurship
The Institute for Business & Entrepreneurship helps entrepreneurs, businesses and economic development professionals across the state to achieve their goals. The Institute, part of the University of Wisconsin System, offers business consulting, education and data services through five distinct program units: Small Business Development Center Network, Center for Technology Commercialization, Food Finance Institute, Center for Business Intelligence and Business Dynamics Research Consortium. This critical business outreach enhances the value of Wisconsin one business at a time. www.business.wisconsin.edu
About the Wisconsin Air National Guard
The Wisconsin Air National Guard includes approximately 2,300 Citizen Airmen from across Wisconsin serving at one of three Air National Guard bases across the state. Like their brethren in the Wisconsin Army National Guard, these Citizen Airmen mobilize for state or federal service when called. Most of our force is part-time, meaning the Airmen serve one weekend a month and two weeks of annual training each year. They serve a dual role – ready to mobilize for state service during emergencies or for federal service in support of global contingency operations. The Wisconsin Air National Guard includes the 115th Fighter Wing, which flies F-16s out of Madison, the 128th Air Refueling Wing, which flies KC-135 Refueling Tankers out of Milwaukee, and Volk Field Combat Readiness Training Center, one of the premier training venues in the nation. www.goang.com/locations/wisconsin
About the U.S. Small Business Administration (SBA)
The U.S. Small Business Administration helps power the American dream of business ownership. As the only go-to resource and voice for small businesses backed by the strength of the federal government, the SBA empowers entrepreneurs and small business owners with the resources and support they need to start, grow, or expand their businesses, or recover from a declared disaster. It delivers services through an extensive network of SBA field offices and partnerships with public and private organizations. www.sba.gov
About the Wisconsin Economic Development Corporation (WEDC)
WEDC leads economic development efforts for the state by providing resources, operational support and financial assistance to companies, partners and communities in Wisconsin. Working with more than 600 partners across the state, including regional economic development organizations, academic institutions and industry clusters, WEDC develops and delivers solutions that help businesses, communities and people maximize their potential in Wisconsin. www.wedc.org