Leah Neuroth and Jeffrey Wilgus, co-owners of The Hounds & Tap, opened their unique space in Menomonee Falls, WI, in May 2021. The grand opening was truly a community event as support for these new entrepreneurs came from family and friends as well as the Menomonee Falls Chamber of Commerce, Menomonee Falls Police Department and lots of neighborhood folks!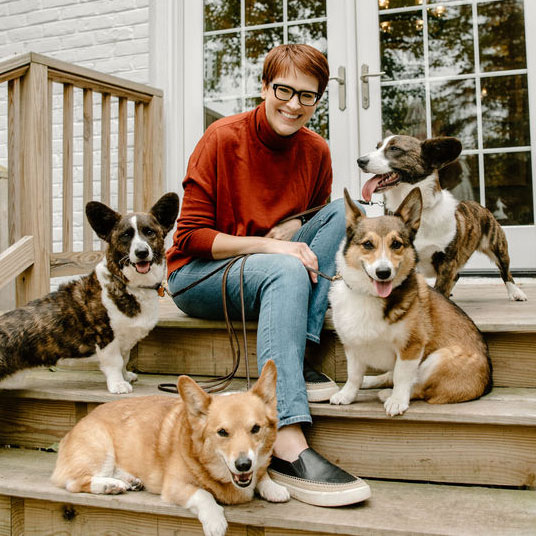 THE BUSINESS
Leah and Jeffrey feel that dogs should be a larger part of people's lives and one way to accomplish that is to create more spaces where dogs are welcome. They did that by inviting dogs to their space that houses a tavern, indoor outdoor dog park, professional grooming space, daycare, boarding and self-serve dog wash area.
Safety and cleanliness are high priorities at The Hounds & Tap. Vaccinations are required for all dogs who visit. The facility is cleaned daily with the same products used by the Humane Society. The dog park employs Bark Rangers who provide added safety and are trained in force-free and positive reinforcement. People can purchase a daily pass or a monthly membership that allows unlimited visits. 
wash offers walk-in and scheduled appointments and allows pet owners to leave all the mess and bubbles there instead of at their own homes. Clients love that they can exercise with their dog friends and grab a beer at the tavern and a snack from the local food trucks, which rotate at the location throughout the week. The beverage assortment also rotates to include craft beer and cocktails from local breweries and other partners. 
Private parties are also part of the offerings at this cool pup-friendly establishment. The owners have hosted employee team-building events, first birthday and other milestone birthday parties, and even dog birthday parties. 
THE COMMUNITY
The Hounds & Tap is hosting a family day event in fall of 2021. The event will include a class on how to approach dogs, in which a dog trainer will talk to kids about dog behavior. The tavern will offer kiddie cocktails and kid-friendly activities like coloring, painting and temporary tattoos.
They credit much of their success to support from the community as well as other local resources. The Waukesha Bank helped provide initial funding for the business and the Small Business Development Center (SBDC) located in Waukesha County helped with financial projections and business planning.
"We are so grateful for Lucy Waldhuetter at the SBDC. She really helped us through the process because we simply didn't know what we didn't know. The response time from the SBDC was great – often the same day!" Leah and Jeffrey said. "Lucy truly cared about us and our business and always went the extra mile."
We look forward to seeing how The Hounds & Tap continues to grow in the future. We love to see them reaching the mission of connecting hounds and humans to make every day a play day. 
"Lucy truly cared about us and our business and always went the extra mile."
Leah Neuroth and Jeffrey Wilgus
The Hounds & Tap