Solar Forma Design, an Ideadvance Seed Fund awardee and SBDC at UW-Eau Claire client, is through the commercialization process and is officially bringing their product to market.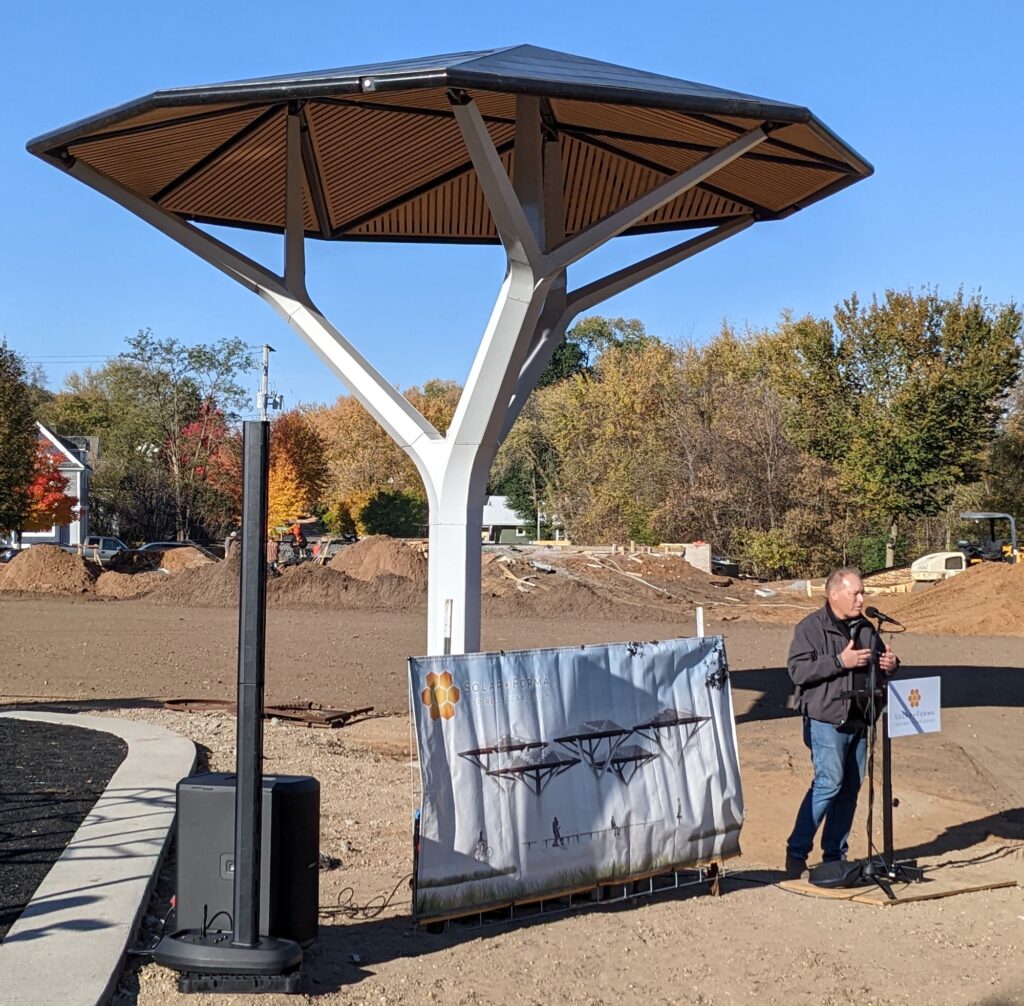 After more than three years of building their network, capital, design and manufacturing capabilities, these innovators were able to showcase their product in front of federal, state and local officials as well as a crowd of valued resource and community partners.
There was a groundbreaking ceremony on October 20 at Boyd Park in Eau Claire, where the 17-foot-tall E-Cacia tree was installed – the first public installation for Solar Forma Design. Senator Tammy Baldwin attended and spoke at the event, sharing her excitement to have alternative energy manufactured and installed right here in Wisconsin. "Solar Forma Design's installation here in Eau Claire represents a community coming together to support local businesses that are creating clean energy solutions," said Senator Baldwin.
"We generate clean energy and we make a place look pretty in the process," CEO and co-founder Brian Graff said during a celebration Thursday morning of the solar tree's installation.
"Congratulations to Solar Forma Design on the dedication of their first public E-Cacia tree in Eau Claire!" said Luke Kempen, director of the SBDC at UW-Eau Claire. "Having worked with Solar Forma Design on their business start and now seeing their first E-Cacia install it is great to see the progress and results of their persistence and dedication to their mission. Brian and his team at Solar Forma Design is passionate about integrating solar energy and thoughtful design into their products to make places that are both functional and aesthetically pleasing."
The Eau Claire company, founded in 2019, designs aesthetically pleasing multi-purpose solar products for public spaces. Its E-Cacia Solar Tree, based on the acacia tree of Africa, can provide shelter, lighting, wireless device charging, electric vehicle charging and a WiFi hotspot. And the E-Wave Carport, based on the waves of oceans and lakes, has similar features.
Solar Forma Design has several installs planned within Eau Claire and will also be putting one at the Discovery Center in downtown Milwaukee.
"The flavors of innovation on display across Wisconsin that result in local economic impact are a direct result of entrepreneurs tapping into their resources." said Dr. Idella Yamben, Ideadvance New Idea Concierge and Center for Technology Commercialization director. "Novel partnerships across the state, many made possible by WEDC, coupled with access to talent and programs in UW System are allowing new ideas to take hold."
If you or a business you know could benefit from idea valuation, expert advice and a grant to advance your innovation, check out the Ideadvance Seed Fund! If you're interested in small business assistance in general, find your nearest SBDC center.