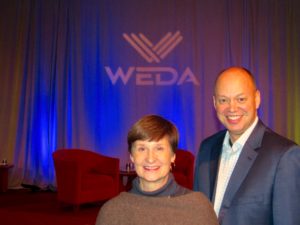 MADISON — The Wisconsin Economic Development Association (WEDA) has unanimously elected Bon Wikenheiser, state director of the Wisconsin Small Business Development (SBDC) Network at the UW-Extension Division for Business & Entrepreneurship, to serve a three-year term on its board of directors.
The election took place at WEDA's annual meeting Feb. 1 during the 2018 Governor's Conference on Economic Development.
"It is a privilege to work with WEDA's members to build Wisconsin's communities and businesses," Wikenheiser said. "UW-Extension's Division for Business & Entrepreneurship has long realized the best way to add value is to work through local economic developers as part of an overall strategy. I plan to tackle rural economic challenges, find the right data to influence strategic decisions and explore new approaches to encourage local entrepreneurial talent to build Wisconsin's economy."
WEDA is the statewide professional association for economic development, with more than 450 members working in the public, nonprofit and private sectors. WEDA provides education, networking and advocacy for its members in order to advance community and economic development goals.
"WEDA is excited to welcome Bon and the other new members to the board," WEDA Executive Director Brian Doudna said. "These individuals bring extensive experience, expertise and leadership that will move the organization forward and promote economic development throughout Wisconsin."