The Southwest Wisconsin Small Business Development Center (SBDC) and the Wisconsin Women's Business Initiative Corporation (WWBIC) want to help strengthen small businesses with a healthy credit option.
Heavy credit-card debt and high-interest loans can burden, hamper or even threaten small business operations. But owners don't have to feel trapped. It is important to know that other businesses have experienced these same issues and there are free resources available to help.
The Healthy Credit Loan Initiative is a two-pronged approach for small business success: SBDC's financial consulting paired with WWBIC's loan assistance. The Wisconsin SBDC Network supports new and existing business owners through no-cost, confidential consulting and business education. WWBIC helps individuals who face barriers in accessing traditional financing or resources in pursuit of their dreams and economic well-being.
"When people start their businesses, they do so because they are passionate about what they do," said Brock Waterman, Senior Business Consultant for the Southwest Wisconsin SBDC. "Our goal with this program is to empower owners to combine that passion with the proper financial coaching and funds to thrive."
Waterman and Julie Emslie, Southwest Rural Business Consultant at WWBIC, have collaborated three times in such a process already. They are excited about the potential to help business owners in rural communities increase their financial knowledge and strengthen their overall performance to boost business retention and expansion.
"As a small business lender with over 30 years of experience, WWBIC repeatedly sees first-hand how critical cash-flow management is to a business's success," Emslie said. "Proper financing is a key component for this, and we strive to provide loans that seek to mitigate against, and if needed, rectify, a business owner being caught in a high-interest debt cycle."
Frank Pivonka, who has grown Frank's Franks from a Chicago-style hot dog stand to a permanent location in Monroe, is one client who has benefitted from this team approach.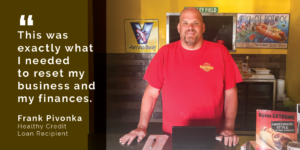 Pivonka worked with the SBDC to understand his financial statements, realize what numbers were most important to his day-to-day business, focus on the most important business issues and create a plan to move forward successfully. He then utilized this plan in consultation with WWBIC to apply for and secure a loan to provide working capital and pay off costly high interest loans. "This is exactly what I needed to reset my business and my finances," he said.
Prosperity Southwest Wisconsin is "highly supportive" of this effort, said President Ron Brisbois, whose economic development organization covers the region served by the Healthy Credit Loan Initiative. "If small business is to be supported and developed here, programs like this are strongly needed."
The initiative is currently available in Crawford, Grant, Green, Iowa, Lafayette and Richland counties. To get started, register at http://tinyurl.com/SWWISBDC, or contact Waterman at or 608-574-1757.
About Wisconsin SBDC Network
The Wisconsin Small Business Development Center (SBDC) Network supports entrepreneurs and business owners through no-cost, confidential consulting and business education. Regional SBDC experts facilitate improvement and growth for small and emerging mid-size companies and help launch successful new enterprises. The Wisconsin SBDC, hosted by the University of Wisconsin-Extension, features 14 local centers mostly located in four-year UW institutions, with outreach and virtual services covering the entire state. www.wisconsinSBDC.org
About Wisconsin Women's Business Initiative Corporation
Wisconsin Women's Business Initiative Corp. (WWBIC) is a leading, innovative economic development corporation "Putting Dreams to Work." WWBIC's primary focus is on women, people of color and low-income individuals, providing direct lending and access to fair and responsible capital, quality business education, one-on-one technical business assistance and education to increase financial capability.  Since 1987, WWBIC has lent over $60 million in micro and small business loans with a current loan portfolio of $18 million and nearly 500 active borrowers. www.wwbic.com