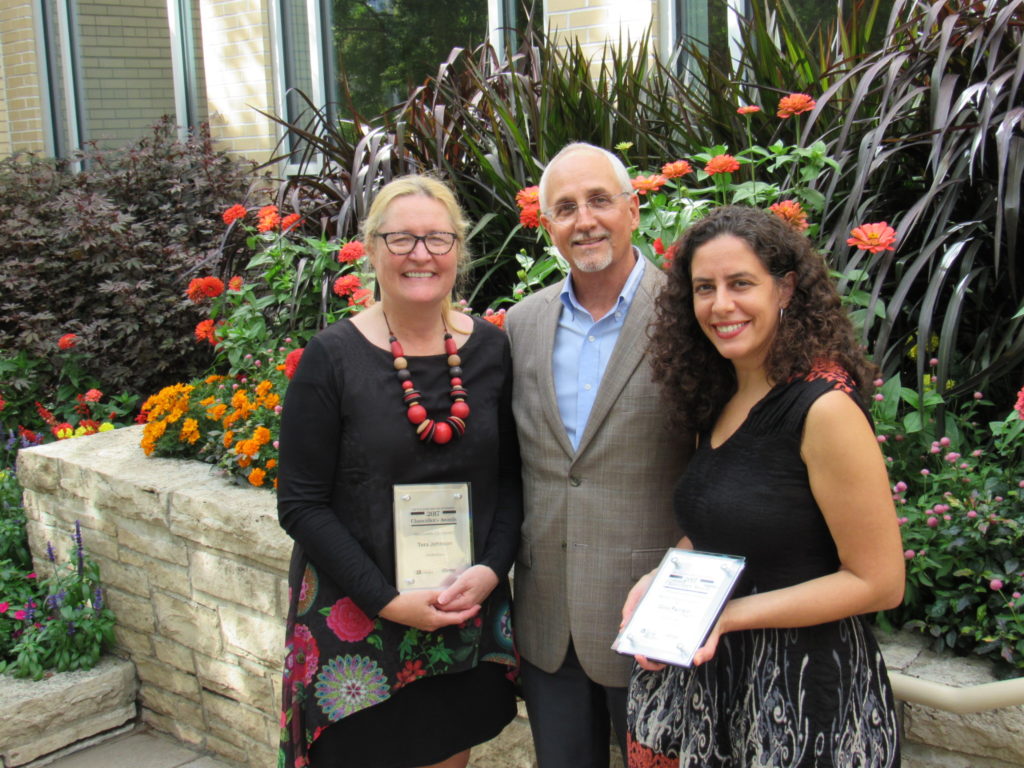 Mark Lange (center), executive director for the Division for Business & Entrepreneurship, with Tera Johnson (left) and Gina Ferraro (right).
MADISON – Two members of the UW-Extension's Division for Business & Entrepreneurship were honored Sept. 21 with the 2017 UW Colleges and UW-Extension Chancellor's Awards.
Gina Ferraro, Financial Officer, received the Award for Excellence, and Tera Johnson, founder of the division's Food Finance Institute, was chosen for the Wisconsin Idea Award. The annual Chancellor's Awards recognize partners, supporters and employees for their outstanding contributions to the quality of life in Wisconsin. (See all 2017 winners here.)
Chancellor Cathy Sandeen praised Ferraro for strategically leading human resources support through financial, logistical, organizational and personnel changes. "Gina's innovative mindset and high level of expertise" provided critical stability and contributed to new programs' success as the Division for Business & Entrepreneurship doubled in size since 2013, Sandeen said.
The Award for Excellence recognizes the outstanding performance of an individual or group in any of several areas, including outstanding contributions to the UW Colleges or UW-Extension missions or strategic priorities, sustained excellence in providing support, the development of innovative programs, outstanding teaching, successful programming or exceptional efforts to build public support for UW Colleges or UW-Extension.
Sandeen praised Johnson for assisting young food companies and value-added farm enterprises to raise the money they need to grow by offering specialized financial consulting.
"Known around the state and country as a serial entrepreneur, Tera's dedication has accelerated the creation and growth of more successful food and value-added farm enterprises that make money — and a difference," Sandeen said. "Tera is now working to launch Edible-Alpha, a digital learning food business consultant community whose members include individuals from the Wisconsin Department of Agriculture, the Wisconsin Food and Beverage Association, entrepreneurs, lenders and investors. Her Edible-Alpha podcast series is approaching 8,000 downloads as its listener base continues to grow."
The Wisconsin Idea Award honors an individual, organization, group, project or program outside UW Colleges or UW-Extension that has made significant contributions to society, the economy, the environment or the quality of life at the local, state, national or international level through involvement with UW Colleges or UW-Extension.
Mark Lange, executive director for the division, was thrilled to see recognition for Ferraro and Johnson in their contributions to the division's work in serving Wisconsin's aspiring, new and established small businesses.
"Gina and Tera are truly excelling in the critical roles they play for the division, UW-Extension and the greater Wisconsin business community," Lange said. "The Chancellor's Award is a terrific way to celebrate their efforts."
About UW Colleges and UW-Extension
UW Colleges is an institution of the UW System comprised of 13 freshman-sophomore campuses and UW Colleges Online that offer an associate degree in arts and science and a single Bachelor of Applied Arts and Sciences degree, and prepare students of all ages and backgrounds for baccalaureate and professional programs. UW-Extension serves Wisconsin families, businesses and communities statewide through offices in all 72 Wisconsin counties and three tribal nations, continuing education services through all 26 UW System campuses, the UW Flexible Option partnership with UW System campuses, the statewide broadcasting networks of Wisconsin Public Radio and Wisconsin Public Television, and entrepreneurship and economic development activities by county throughout the state.
About UW-Extension's Division for Business & Entrepreneurship
The UW-Extension's Division for Business & Entrepreneurship helps entrepreneurs, businesses and economic development professionals across Wisconsin to achieve their goals by offering technical assistance and leveraging data. The division's consultants and tools empower individuals to reach the next level in their careers and businesses. It follows a collaborative model, working with local organizations/other institutions and working together across all program areas to best serve clients. Program units include the Wisconsin Small Business Development Network, the Center for Technology Commercialization, the Food Finance Institute, the Center for Business Intelligence and Business Dynamics Research Consortium.