In 2020, the Wisconsin Small Business Development (SBDC) Network helped clients impacted by COVID-19 receive $21.1 million in federal aid and $7.7 million in state aid.
For that reason and many more, SBDC Day will take on extra significance in 2021.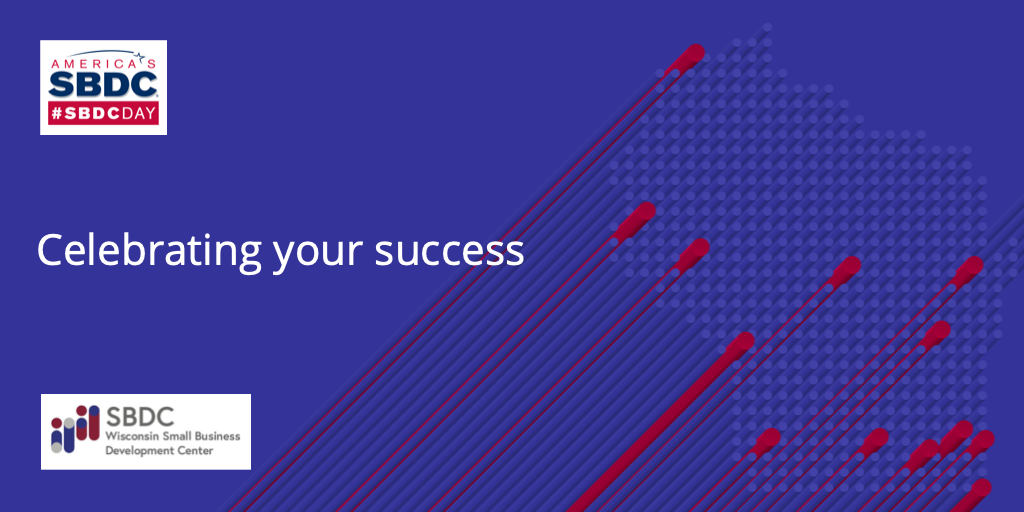 The fifth annual celebration of the collective impact and success of Small Business Development Centers across the nation is March 17.
"Almost a year ago, the Wisconsin SBDC sprang into virtual action to help thousands of business owners disrupted if not temporarily shut down by the COVID-19 pandemic," said Bon Wikenheiser, state director. "Because our 13 centers were positioned to be accessible to anyone anywhere, we served as a go-to source for assistance in a disaster when conditions were changing by the day. Shoring up small businesses was and still is critical to our state and local economies."
Working collaboratively with the Wisconsin district office of U.S. Small Business Administration (SBA) was key in helping businesses understand how to apply for federal CARES Act loans — Paycheck Protection Program (PPP), Economic Injury Disaster Loans and EIDL Advance. The same held true at the state level for the popular We're All In grants from the Wisconsin Economic Development Corporation (WEDC), plus other financial measures and safety guidance.
"SBA Wisconsin's already close collaboration with the Wisconsin SBDC Network has become even closer throughout the pandemic," said Eric Ness, the SBA's Wisconsin district director. "The SBDC's support for small businesses through collaborative training and one-on-one advising helped Wisconsin small businesses and nonprofits garner more than $12.76 billion in SBA traditional and pandemic-related lending and economic assistance. We will continue our work together to help Wisconsin's small businesses start, grow, expand and recover."
"The Wisconsin SBDC plays a key role in helping small businesses connect with the resources they need at the local level," said Missy Hughes, WEDC secretary and CEO. "Especially in the early days of the pandemic, their center staffs went above and beyond to make sure small businesses received financial assistance quickly and with minimal red tape."
Overall last year, the SBDC served 7,870 clients, resulting in $107.5 million in capital investment, 256 new businesses and 26,275 jobs supported.
"The resilience and creativity of Wisconsin's business owners should be a source of pride as we continue to live with an adjusted reality," Wikenheiser said. "We continue to support entrepreneurs as they start and grow their ventures."
Small businesses, partners and advocates are invited to use the hashtag #SBDCDay in social media posts leading up to and especially on March 17.
With nearly 1,000 locations across the country, SBDCs provide entrepreneurs with the resources to succeed and measurable economic results. In 2020, SBDCs helped generate 20,374 businesses starts, 91,767 jobs, $7 billion in sales growth and $6 billion in capital investment.
"It's not surprising to learn that 95 percent of SBDC clients recommend SBDC services," said Charles "Tee" Rowe, America's SBDC President & CEO.
To learn more about #SBDCDay and to join the movement, visit www.AmericasSBDC.org/SBDCDay.
About the Wisconsin SBDC
The Wisconsin Small Business Development Center (SBDC) is a nationally accredited statewide network supporting entrepreneurs and business owners through no-cost, confidential consulting and business education. Regional SBDC experts facilitate improvement and growth for small and emerging mid-size companies and help launch successful new enterprises. The Wisconsin SBDC is hosted by the University of Wisconsin System Administration under the Institute for Business & Entrepreneurship. www.wisconsinSBDC.org
About America's SBDC
America's SBDC represents the Nation's 63 Small Business Development Centers, a national network of partnerships uniting higher education, state and local nonprofit economic development organizations, private enterprise and government. It is the Small Business Administration's largest partnership program, providing management and technical assistance to help Americans start, run and grow their own businesses. www.americassbdc.org