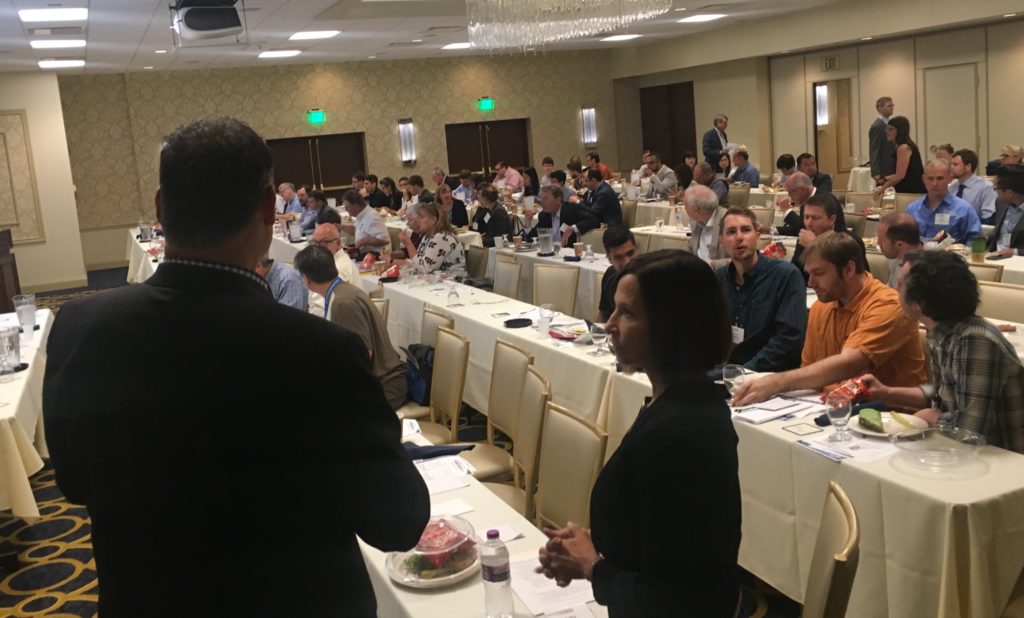 Dave Linz of the Center for Technology Commercialization and UW Colleges and Extension Chancellor Cathy Sandeen touch base before the lunch panel at the SBIR Road Tour. See our photo gallery from the day 
MADISON – The 2017 SBIR Road Tour drew 137 registered attendees from Wisconsin and beyond on July 18, giving small businesses the coveted opportunity to learn more about America's largest seed fund for research and development.
This stop, part of the U.S. Small Business Administration's 11-state, 15-city road tour, will allow entrepreneurs and small technology firms to connect directly with federal program managers. Small Business Innovation Research (SBIR) and Small Business Technology Transfer (STTR) programs are responsible for $2.5 billion annually in non-dilutive funding, primarily in the STEM fields.
"This has been an excellent meeting for us to get exposure and better understand the needs of the government agencies," said Randy Nagy of Fast Forward Forensics. (See his video.)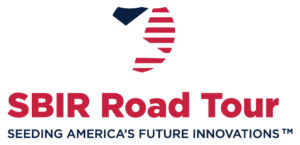 The SBA is dedicated to supporting America's entrepreneurs, and this tour reflects the agency's commitment to ensuring innovators are aware of the resources that can help them turn a big idea into another great American success story. This year's SBIR Road Tour, "Seeding America's Future Innovations," is a national outreach effort targeting advanced technology communities.
The Madison stop, from 8 a.m. to 4 p.m. July 18 at the Park Hotel on Capitol Square, was hosted by UW-Extension's Center for Technology Commercialization (CTC).
The National Science Foundation, the Department of Energy, the Department of Defense and the National Institutes of Health are among the agencies participating in the tour.
"We found this a great opportunity to meet program directors of many funding agencies and to understand the limitless possibilities," said Francisco Moya, co-founder of Pathogenomica.
Pamela Camejo, another co-founder of the UW-Madison startup, added: "We are very excited to meet these awesome people because we are new in this field. Getting their advice has been very useful!"
The highly competitive SBIR/STTR programs together account for more than 150,000 awards totaling approximately $40 billion. These awards have helped U.S. innovators advance new technologies that help make the U.S. more globally competitive. The SBIR/STTR programs have provided seed funding to companies including Qualcomm, iRobot, Symantec and Genzyme.
For more on the tour, go to www.sbirroadtour.com. For more information about SBIR/STTR programs, visit www.sbir.gov.
A related national opportunity will be coming to Wisconsin in the fall: The Health and Human Sciences National SBIR/STTR Conference will be Nov. 7-9 at the Hilton Milwaukee City Center. Learn more about this premiere biomedical conference at www.bit.ly/2HHSSBIR2017.
About the U.S. Small Business Administration
The U.S. Small Business Administration (SBA) was created in 1953 and since January 13, 2012, has served as a Cabinet-level agency of the federal government to aid, counsel, assist and protect the interests of small business concerns, to preserve free competitive enterprise and to maintain and strengthen the overall economy of our nation.  The SBA helps Americans start, build and grow businesses.  Through an extensive network of field offices and partnerships with public and private organizations, the SBA delivers its services to people throughout the United States, Puerto Rico, the U.S. Virgin Islands and Guam.
To learn more, visit www.sba.gov
About the Center for Technology Commercialization
The Center for Technology Commercialization is a unit in the University of Wisconsin-Extension's Division for Business and Entrepreneurship. CTC provides one-on-one expert consulting to early-stage emerging technology businesses throughout Wisconsin. CTC has collaborated in acquiring more than $100 million in federal and other funding for clients. Learn more at www.wisconsinctc.org; follow @WisconsinCTC on Twitter.